Drying · Crystallization facility
Multi-layer heat transfer plate (MLHP) type evaporative concentrator
Device configuration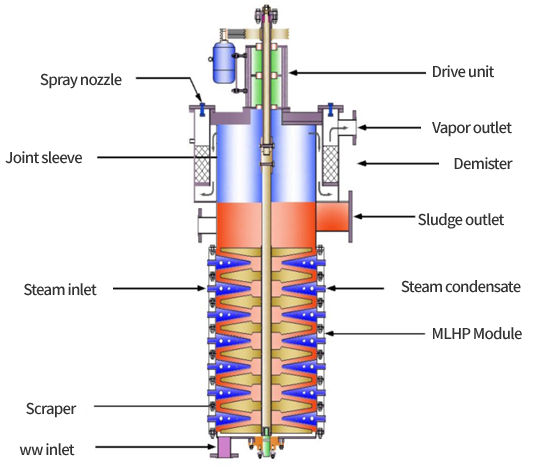 Configuration and function
Modular heating plate (MLHP) composed of multiple layers
Strong liquid agitation driven by a scraper between the assembled heat transfer plates
The rotating shaft is connected to the upper adjusting shaft and rotated by the driving motor, and flows up and down by the spring installed on the upper of the adjusting shaft.
Characteristic
The heat transfer area is very large (3~5 times compared to the existing same capacity)
Accordingly, various waste heat recovery systems can be applied (TVR, MVR, ME, etc.)
Vibration of the rotating shaft up and down to remove and prevent scale formation(Removing scale material attached to the rotating shaft, scraper, and heat transfer plate)
It is possible to replace, disassembly, wash damaged module due to corrosion or wear as well as install additionally.